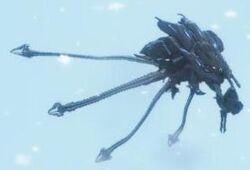 Alien scouts are the most prominent alien forces on the island. They are roughly ten feet long, with large heads and five tentacles. Scouts are actually exoskeletons for the unarmored aliens, who pilot them. Scouts ordinarly self-destruct when destroyed; the scout captured in Crysis Warhead does not, allowing Colonel Ji-Sung Lee to place it in a container for transport and reverse engineering. Scouts make loud roaring noises and have two forms of attack: they can fire MOAC-like ice shards, or a concentrated ice beam. They can also carry multiple alien troopers on their tentacles and drop them into battle. Scouts are extremely durable, but susceptible to the gauss rifle.
Scouts are the first aliens Raptor Team encounters. A scout knocks Nomad out of the sky during the initial parachute jump to the island, and another is presumably responsible for the death of Aztec. A scout also smashes through the Lusca's Call and kidnaps Jester, killing him shortly afterwards. Yet another scout kidnaps Prophet, but he somehow escapes unharmed and in possession of a MOAC. During the final act of the game, thousands of scouts can be seen swarming away from the island.
Alien scout bomber
Edit
A rare orange-colored variant of the scout appears exclusively in Crysis Warhead. They spin through the air, dropping smart bombs from their tentacles.