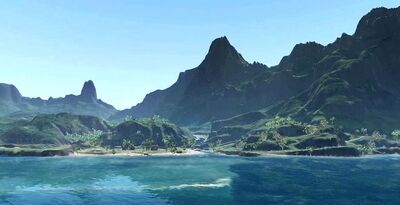 The island is the main location of the Crysis series. The island does not have a known name, and is part of the fictional Lingshan Islands chain near the Philippines.
According to the developers of Crysis location scouting was done in Tahiti French Polynesia.
The island had a small residential population prior to North Korea's invasion; that population was then evacuated. Dr. Rosenthal and his team were researching the island and a mysterious structure they found in the island's most prominent mountain. Helena Rosenthal sent a distress message to the United States government, and the US sent Raptor Team to investigate. Shortly afterwards, the US marines invaded and a battle between the two countries broke out, interrupted and then ended by the awakening of the aliens, who attacked both sides. Both countries fled the island after a giant ice sphere surrounded much of the island, and eventually the entire island itself.
The island's topography is mostly hilly, with several large mountains, the largest of which is actually the massive alien ship covered in two million years worth of rock. Several large fields and miles of jungle cover the island, with a few small establishments. The existence of beachside resorts indicate the island was a tourist attraction. Mines and other excavation sites exist on the island and the mountain itself, as well as a large military airfield and a train network. The North Korean army quickly set about transforming the beachside resorts and villages into fortified bunkers and, within the span of a week, turned the island into a fortress.
As of the end of Crysis, the island has been hit with a nuclear missile and subsequently covered in an ice sphere, making it completely uninhabitable.